"Tonight let's get some, and live while we're young!" – One Direction
Annyeong hasaeyo! Hello guys!
There was some issues with the internet where we were staying along with the fact we were so busy that I had no time to post the rest of the trip updates in real time.
Anywhoo, onto part 2 =p
In my previous entry I went over my trip to Korea and where I'd be likely heading. Well, its my 3rd day now, and Abby surprised me with an amazing gift. As expected, she did not disappoint me. Can you guess what her surprise was? Read on to find out! *wink*
Around 8AM yesterday, my girl Abby woke me up while holding 2 medium-sized boxes. At first, I thought they were books and stuff, but it turned out they were actually costumes! Abby knows how fascinated I am with cosplays so she bought me a costume of my favourite Naruto character and she bought one for herself, too! I was a little confused, though. I thought she'd ask me to go on a date wearing those costumes. LOL. Just imagine how silly and funny that would be. Abby got us a ticket to a cosplay event in Seoul that was held yesterday afternoon and we joined the event as cosplayers. Another first time for me! Yay!
We started prepping up for the event at 9, with the help of Angelie, and we were ready to go at 12. I was dressed as my favourite ninja, Ino Yamanaka. Naruto fans would agree with me if I said Ino is the sexiest ninja in Naruto, right? Abby, on the other hand, was dressed as Naruto's love interest, Sakura. For the benefit of my lovely readers who are cosplay-enthusiasts and/or Naruto fans, let me give you a lil info about our costumes, should you be interested to try them as well.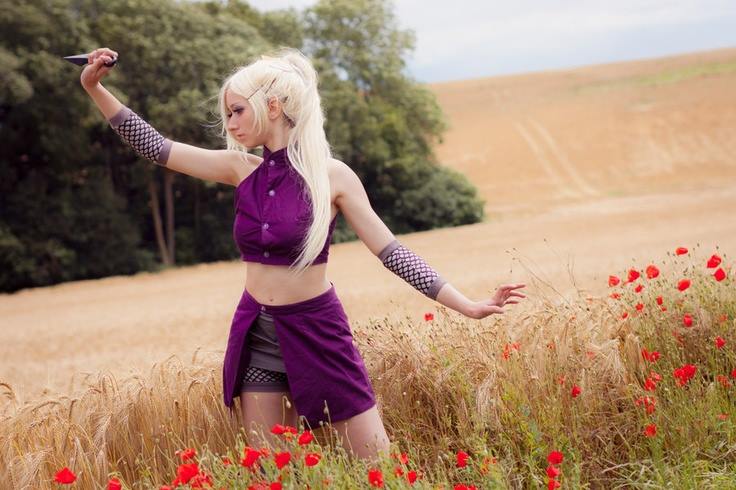 Basically, Abby got both costumes from E-Bay. They are usually sold by set. Some of them include the footwear, while the others don't. Sakura's costume set also came with accessories like the gloves and dagger. Ino's dress and shoes were sold separately. But, that's not all. More than the dress and accessories, hair and make-up are more important. The funny thing is, I just found out yesterday that Abby has been watching cosplay makeup tutorials in YouTube in preparation for this day. She always goes the extra mile! Angelie helped us do our hair. Abby wore a cute pink bob-cut wig. Mine was less complicated, I just had to tie my long blonde hair into a ponytail to achieve the Ino hair-do.
And here comes my favourite part! To complete our cosplay looks, Abby even bought Sharingan contact lenses! Sharingan contacts come in different versions like mangekyou itachi, sasuke, kakashi, or madara, and are popular among cosplayers. You can't possibly not look awesome while wearing them sharingan contact lenses! The great thing about them is that they're suitable for all eye colours. Abby and I got exactly the same eye colours as Ino and Sakura, how cool is that? Disregarding the fact they're not actually true to the anime/manga, they still look awesome.
We arrived at SETEC Center in Seoul at around 1 in the afternoon and I was amazed by the number of people who participated in the event. Most of them are teenagers, but that didn't matter since our real age are hidden behind our costumes and makeups. LOL! They were not just Koreans, there were also foreigners like us! I saw familiar costumes like the Disney characters – you can't possibly miss the phenomenal Elsa and Ana sisters, Luffy from One Piece, characters from RPG's like Ragnarok and Star Craft, Pokemons, some are even dressed as KPop stars, and a whole lot more! Some people asked to take photos with us and we felt like instant celebrities. Indeed, it was a paradise of cosplayers and another check off of my bucket list!
I seriously still cannot believe that I'll be on the plane back home again in a few hours. Time really flies when you're having so much fun. Anyway, Abby and I had the best week ever and that is what's important.  Let's live while we're young, am I right?
Until then, Korea! Annyeong!~
Til next time, guys! Peace and love!
xoxo,
Jessica
Read More